About Ueno Zoo Portable Information System (Ubiquitous Communicator)
Explore the wonderful world of Ueno Zoo animals though pictures, movies and sounds, provided by our portable information system. You'll discover fascinating animal facts you'd never know by just watching. It's more than fun!

Pick up a portable information device (Ubiquitous Communicator), free of charge, at the rental desks.
Hours
9:30-16:30 (Please pick up devices by 16:00)
(Service might be unavailable in case of rain.)
Rental Desks
General Information Center in the East Garden, or the desk in the entrance Hall of the Vivarium (the Reptile and Amphitian House) in the West Garden
*You need to fill in your name, address, and phone number.
*Return the device to the same desk when finished.

Reservation
Reservation can be made by fax. Please tell us the date of your visit, the number of participants, the number of devices needed, the name, address, and phone number of one of your party members by two days before your visit. Please confirm our answer to your request, without which the reservation will not valid. .
FAX: 03-3821-2493


The fax subject should be "Portable information device reservation."

Contact
Phone 090-4050-2589 (09:30-17:30)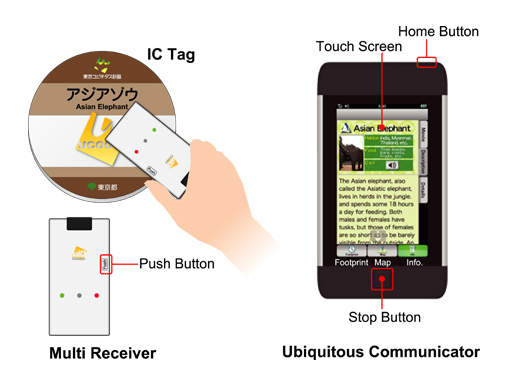 1.
Hold the "ucode reader" over an "IC tag" installed near animal exhibits. Information appears on the screen (in some areas, information is available automatically).
2.
Touch the screen to get more information.
3.
The "Return Botton" takes you back to the previous view. The "History Button" at the left bottom of the screen shows a list of pages you have visited.


The device is a precision instrument, and is not water-proof. Handle with care and avoid having it get wet from rain or other liquids.
The battery lasts about two hours, but might get dead in less time. We exchange the battery for you at the rental desk.
When the device "freezes," reset it by turning off and then on the power.
Under some circumstances, the desk might stop rental service before 16:00.



General Information Center → Red Pandas → Otters → Lions → Sun Bears → Asiatic Elephants → General Information Center


General Information Center → Japanese Pheasants → Red-headed Wood Pigeons → Red Pandas → Otters → Raptor House → "Kan-kan Tei" (Historical tea ceremony house) → Lions → Sumatran Tigers → Gorillas → Tamanduas → Red-crowned Cranes → Penguins → Sea Lions → Polar Bears → Brown Bears → Asiatic Elephants → Japanese Macaques → Tapirs and Capybaras → Monkey Houses → Bisons → General Information Center


Naked Mole Rats → Common Tree Shrews → Cape Hyraxs → Dwarf Mongooses → Lesser Mouse Deer → Ryukyu Flying Foxes → Southern Three-banded Armadillos → Fennecs → Springhaas → Seba's Short-tailed Bats


Giant Salamanders → Chameleons → Saltwalter Crocodiles → Australian Lungfish → Fly River Turtles → Galapagos Tortoises → Reticulated Pythons


Hoffmann's Two-toed Sloths → Grey Gentle Lemurs → Aye-ayes → Shoebills → Okapis → Giraffes → Black Rhinoceroses → Hippopotamuses → Pygmy Hippopotamuses


What are hoofed animal legs like? Observe them by going along the blue IC tags.
Okapis → Giraffes → Rhinoceroses → Hippopotamuses → Zebras